CEO Panel Discussion - Going Head-to-Head with the Region's Top CEO's
Thursday, July 7, 2022 (9:00 AM - 12:00 PM) (MDT)
Description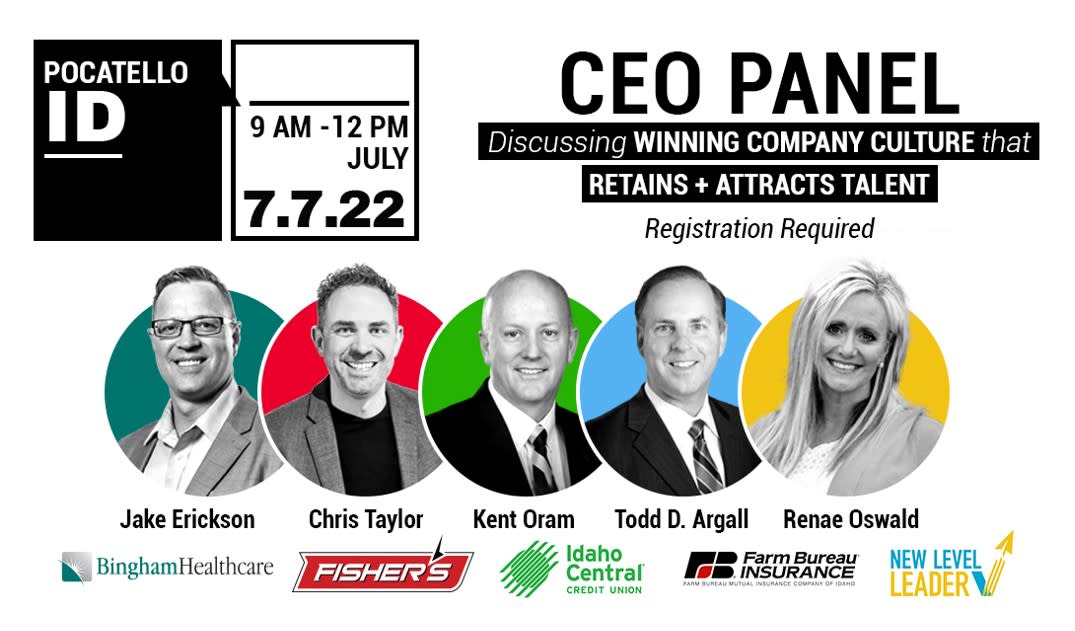 Bingham Healthcare, Fisher's Technology, Idaho Central Credit Union, and Farm Bureau Insurance have joined forces to host a CEO Panel discussion on July 7 at 9 a.m. This event will be held at Idaho State University's Stephens Performing Arts Center in the Bistline theatre.
Panelists include Jake Erickson, CEO of Bingham Healthcare, Chris Taylor, CEO of Fisher's Technology, Kent Oram, CEO of Idaho Central Credit Union, Todd D. Argall, CEO of Farm Bureau, and the moderator, Renae Oswald with New Level Leader. The reception will begin at 9 a.m. with pastries and coffee being served. The panel discussion is from 10 a.m. – 12 p.m. Registration is required due to limited seating.
This CEO Panel features some of the region's top CEOs who will share their success on how to foster innovation within any size organization. Each of the CEOs will discuss how their company drives culture and what they are doing differently to attract and retain talent.
The discussion will be dedicated to enabling networking, learning, and collaboration. This complimentary event will examine how these CEOs have kickstarted culture, energized employees, and are standing out in a competitive job market! Please register here: https://bit.ly/3NrnwCx
Images
ISU Stephens Performing Arts Center - Bistline Theatre

Event Contact
Deb Beckett
Thursday, July 7, 2022 (9:00 AM - 12:00 PM) (MDT)